---
I just sent the payment though Paypal. Thanks! I can't wait to get all my things.
---
---
---
I hope to get my pretty things this week. I haven't got my notice they've been shipped, but once shipped, they usually get here quickly.
---
Sewing for a Cause
---
Yeay, the second one got there. I love how spacious your piggies living space is! Bet they can get some zoomie relays going on ;-)
Who's the brave one up front there?
---
Sewing for a Cause
---
C.Cole, they are on my to do list this weekend! I've got one ahead of you I need to finish up first.
---
---
Sewing for a Cause
---
I'll be out of town until Sept. 3rd.
Any orders place between that time will still be on the first come basis and will receive their invoices when I return.


Looking forward to meeting you C.Cole-Chakotay!
---
---
Do you still make those adorable sea shell beds? I so want one of those. Oh and do you take custom orders on the corner pockets. I saw the comment about "some lettuce" and would love a fake "pita piggie pocket" with some lettuce and tomatoes, maybe some bacon? You have such cute things that are so beautifully crafted!!
---
---
Sewing for a Cause
---
PiggiesnPuppies, yes! The Sea Shell Houses are part of our permanent product line. Custom orders are accepted as well, just pick your favorite fabrics and enter them on the product page before adding to cart. Hehe, pita piggies, maybe I'll have to make some bacon floor runners ;-P

Iastate09, got things cut, now that other things are caught up from trip I can get to sewing those!
---
Sewing for a Cause
---
So what was I doing out of town recently?
Well, taking Vins back to school and rest of the family and stopping off in Indiana for
Selena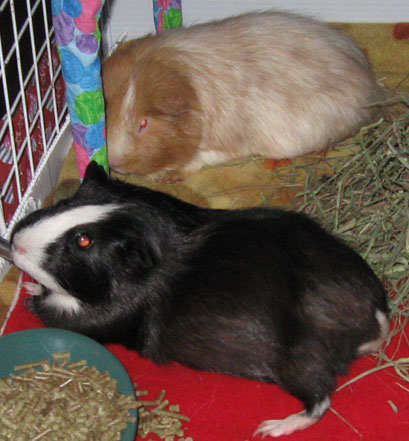 our new Paw Crew member and as it turns out, guardian of Mr.Snugglekins!
Selena at first was a absolute attention hog and she pushed Snuggles over pretty easy, alot of the time just walking by. It took a week before I could leave her alone with him after she realized and "got it" that Snuggles can't do much more now days then walk and do a little rumble noise, which is good considering her own female problems. But she has no qualms with head butting me for some nose rubs :-).
They are happy and I think he's glad that I held out looking for the right older lady for him.
In other news, 4 new products have been added!
Cosset Cruiser
Party Barges
are a play down from the Cosset Cruiser with wheels and hood removed making look more like a pantoon boat.
Cavy Crafts
are slightly shorter then the Party Barges and have a more rounded front, looking alot like a hover craft boat.
Designer Fruity Pads
aren't really new but are newly added to the permanent line because of their usefulness. We've used one since last year and seems to be unanimously preferred to others that have squared edges that trip up Snuggles.
Pumpkin House alteration, the tops are now sewn on (no more velcro).
And here's just a few of the newest items available in the
pre-made section
2x4 Cage Blanket (close up of large design)
Set
Pumpkin House
Lounger Bed with Pooh Bear print (foam)
Cheers!
---
---