I'm happy to publicly announce my website
http://www.jenscustomcrafts.com
Thanks to Lynx for allowing me to advertise on her wonderful website!
Many of you might have seen pictures from me or other members with the Custom "Huts" that I make for the piggies. These are my specialty and the piggies love them! You can ask any of my 18! The huts are made with cotton fabric, lined with coordinating fleece and there is a layer of foam between the cotton and fleece to keep the huts free standing. They are machine washable and dryable and continue to hold their form.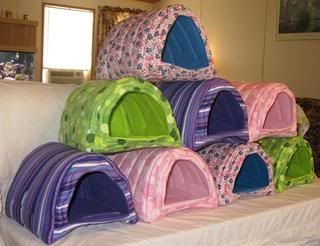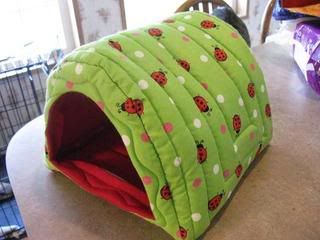 Many of the pigs also love the large hanging cubes, these only work if you have a top on your c&c cage. I can make them with one or two entrances/ exits.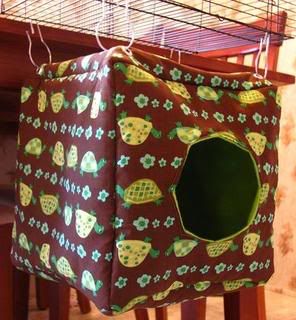 The Cubes are perfect if you also have rats or ferrets. I have several different sizes to choose from. Cubes are also made with cotton fabric and lined with coordinating fleece. There are grommets in place and pear hooks are included so the cubes are ready to hang.
There are many different sizes of hammocks including corner hammocks which some guinea pigs do enjoy laying on, but again these are mostly for rats and ferrets. I have sold many of these for guinea pigs that do love to lay in them. All hammocks also come with grommets in place and pear hooks for hanging.
At Jens Custom Crafts shipping is always FREE anywhere in the United States. Please email me for shipping quotes to other countries.
My items are not pre-made. I make them custom to your specific order. I have all of the fabric listed on my website that I have in stock. You pick which items you want, then choose the fabric and I will make the items for you and have them mailed to you within 2-4 weeks. I'm always happy to do custom orders and sizes to your liking.
My preferred payment method is paypal, but I will also be happy to accept checks and money orders, which take additional time to clear through the bank.
There are many more items on my website that I haven't listed here, so please be sure to take a look and don't forget to click on the "Satisfied Customers" tab to see testimonials and pictures of happy critters enjoying my products.
Ordering instructions are listed on my website or just send me a message here and I will email you through the mailer.
Thanks for looking!
Jenny